Today the kids and I took Mom to the airport. Her flight was at 3pm so we dropped her off at 12:45.
We went to the most underused, underrated NYC attraction,
The New York Hall of Science
. I can rant about this place for pages but I want to keep it to myself for the next 15 years.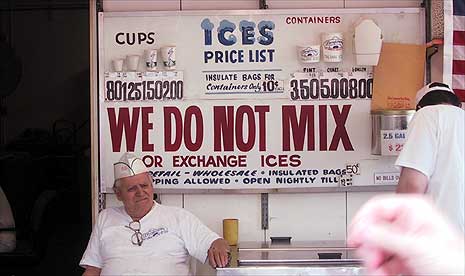 But first lunch. We stopped at
Corona Pizza
. This place as probably been the same for 20 years and I hope it never changes. I will never have to eat in the Hall of Science again. The food and the service were great! Then we picked up some ices at
The Lemon Ice King of Corona
. There will never be a revolution, they will always be the Ice King. S had Mint Chocolate Chip, N had Peanut Butter and I had Vanilla ice. I can't wait to try the other 32 flavors. Like the sign says they do not mix or exchanges ices, but they do give samples to 8 year old twins.
The photo above is from "a site by David F. Gallagher. It is a log of photos I have taken around New York City and elsewhere, plus some other things. The W
eb versions of these photos are free for non-commercial use with attribution under a Creative
Comm
ons License. Ask me about other uses." I don't know how to give him credit, but it is the photo I would have taken.
He enjoyed our ices in
William F. Moore Park
were there is nothing to do but play boccie and enjoy ices in the shade.
The kids the left their heads at the Hall of Science