Ghost Bikes are small and somber memorials for bicyclists who are killed or hit on the street. A bicycle is painted all white and locked to a street sign near the crash site, accompanied by a small plaque. They serve as reminders of the tragedy that took place on an otherwise anonymous street corner, and as quiet statements in support of cyclists' right to safe travel.
The sign over the Ghost Bike by Brooklyn Borough Hall reads "In 2010, at least 18 bicyclists and 151 pedestrians were killed in New York City. this is a Memorial for all those whose deaths never made the news."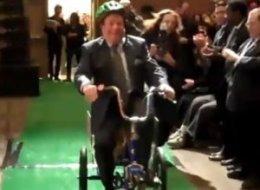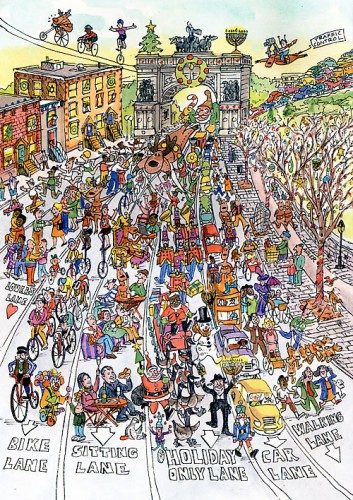 Borough Hall is the office of the Borough President of Brooklyn. Marty Markowitz.. He is the man who showed up to make his State of the Borough speech on a tricycle.
He also mailed out holiday cards making fun of bike lanes.
He also can tell if a car is speeding from his
apartment window
I lived on Prospect Park West for eight years! My windows faced it, and I rarely saw speeding," said Markowitz, adding, "That doesn't mean it doesn't happen, but I rarely saw it."
He thinks this is funny.
It is not. Bike lanes save lives. They not only make it safer to ride a bike, but they make it easier to cross the street.
I am sorry, but this man is so disconnected from reality. He lives a 10 minute subway ride from his office. Does he take the train? No. Why should he? He gets a free parking spot on this sidewalk.
Below is his car. (Well, not his. It is a city car and it comes with a driver) It is parked, like it always is, on the sidewalk next to Borough Hall. Just past the Ghost Bike.
Previously documented here and here and here
I do think Marty is a nice guy. Just a little confused. The people that he thinks are his constituents all moved to gated South Florida communities already. His term will end in 2014. Then we can move on.