I went to Citi Field today, The Mets lost to the Phillies. But that's not the story.
The new arena is the story, much nicer than Shea Stadium, I read somewhere that Shea Stadium had all of the charm of the a Dept of Motor Vehicles office. A place you want to leave as soon a
s possible. Not so much Citi Field. A great place to watch baseball. Defiantly not built by Robert Moses.
I joked with my Dad that it is the best billion dollars I ever spent an afternoon in. He reacted to my (commie) statement (in conservative spirit) by telling me that it was money all spent by the Mets. We were both wrong. According to
Ballparks.com
it cost $600 million to build and only 165 million was public financing. So what.
But baseball nerd stuff.
I have been doing a
little research
, it appears that this was the only game in baseball history that had an inside the park homer and an unassisted triple play. I so did not care that the Mets lost. Most of the fans at Citi Field were wearing Pilly colors. When the game ended I actually sincerely congratulated the Philly fan who was sitting next to me on his teams victory. He came all the way from South Jersey to see the game and it was worth the trip.
And another thing, It is baseball, anything can happen. Don't leave till the fat lady sings.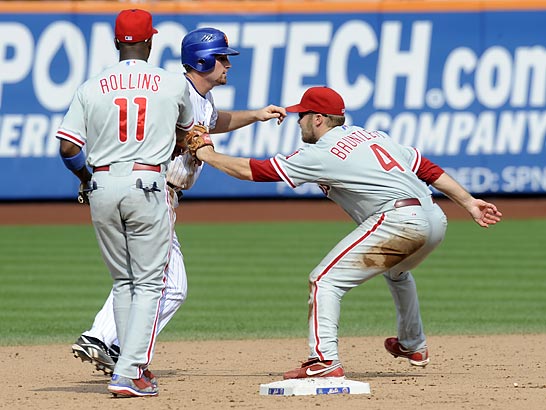 Henny Ray Abrams/AP